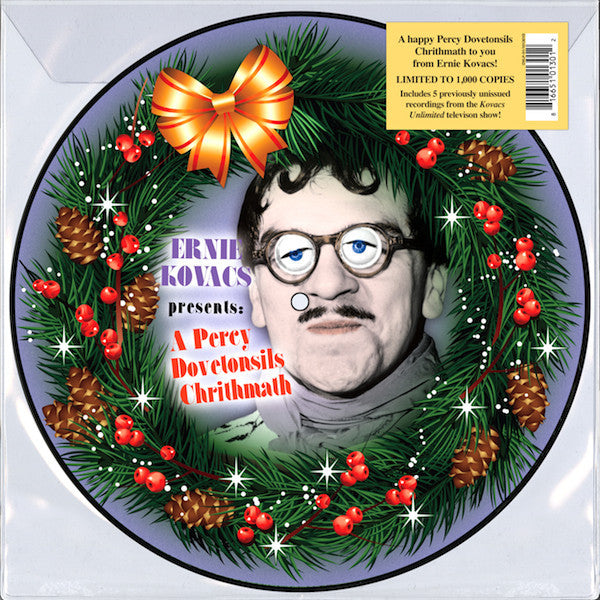 Ernie and Edie
Ernie Kovacs Presents: A Percy Dovetonsils Chrithmath (Out of Print)
Five previously unissued performances from the classic Kovacs Unlimited show on a limited-edition 10″ picture disc EP.
One of television legend Ernie Kovacs' most beloved characters was Percy Dovetonsils. Percy would make regular performances on shows like Kovacs Unlimited in the 1950s. With martini in hand and his trademark lisp, he would wax poetic, always with hilariouth rethulth. Earlier this year, Omnivore Recordings issued the acclaimed Ernie Kovacs Presents Percy Dovetonsils… thpeaks, an unreleased album from the 1960s. One of its tracks, "The Night Before Christmas On New York's Fashionable East Side," is joined here by five holiday poems from the Kovacs Unlimited show, all of which are previously unissued.Ernie Kovacs Presents: A Percy Dovetonsils Chrithmath is the ultimate Kovacs holiday collection!
Perfect for comedy fans of all ages, as well as picture disc collectors, Ernie Kovacs Presents: A Percy Dovetonsils Chrithmath is something that should be at the top of everyone's Christhmath litht.
Plus, you can keep the Kovacs holiday spirit rolling with his wife, Edie Adams' The Edie Adams Christmas Album featuring Ernie Kovacs (1952) on CD too!
10" Vinyl Picture Disc 
Release on Black Friday Record Store Day 2013 
Limited to 1,000 copies
Tracklist:
OTHER THIDE: 1 The Night Before Christmas On New York's Fashionable East Side 4:11
OTHER THIDE: 2 Winter Is Almost Nigh Upon Us 4:07
OTHER THIDE: 3 Ode To Our First Snowfall 3:48

THITH THIDE: 1 Ode To The Christmas Shoppers 3:50
THITH THIDE: 2 The Night Before Christmas On The East Side 5:42
THITH THIDE: 3 Ode To New Year's Eve 3:24

---
More from this collection