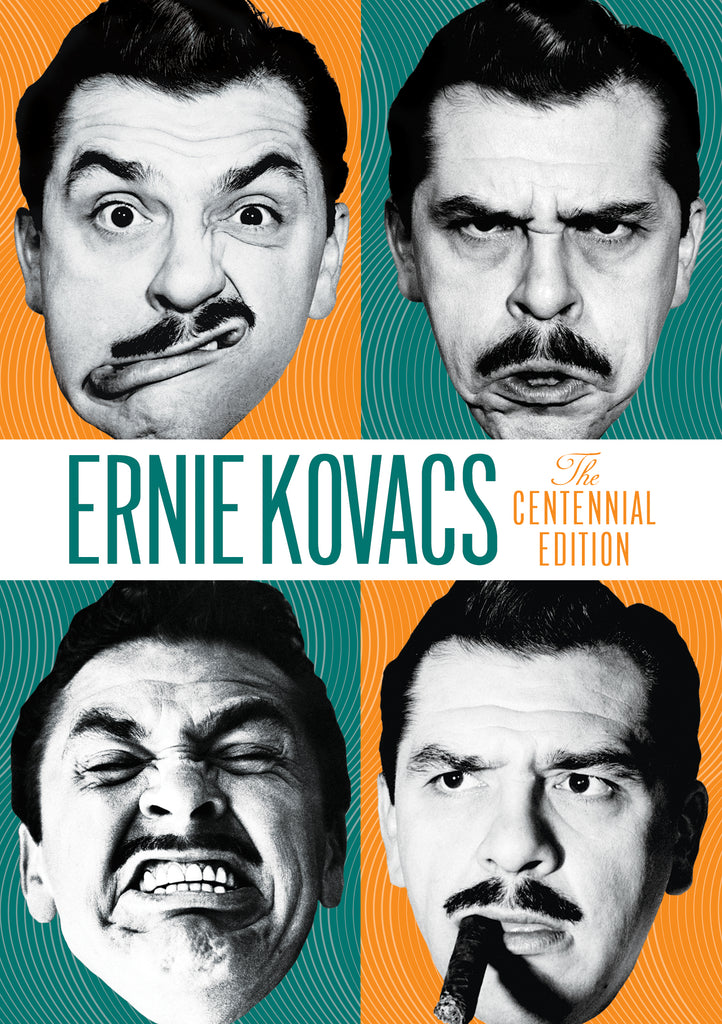 Ernie and Edie
Ernie Kovacs: The Centennial Edition
Happy 100th Birthday, ERNIE!
To celebrate the 100th birthday of television's original genius, this collection combines the previously released volumes of groundbreaking, rule-breaking, surreal and charmingly silly comedy of Ernie Kovacs. Included are over 22 hours of decidedly offbeat entertainment from across his many television shows and specials, all of which showcase an utterly unique sensibility that has influenced such comedy institutions as Monty Python and SNL.
Featuring:
* Episodes From His Local And National Morning Shows
* Episodes From His NBC Prime-Time Show
* Kovacs On Music
* Five ABC TV Specials
* The Color Version of His Legendary Silent Show, "Eugene"
* His Award-Winning Commercials For Dutch Masters Cigars
* Short Films, Tributes, Rarities
* 18 Bonus Sketches Featuring Many Of His Most Beloved Characters
* 3 Complete Episodes Of His Offbeat Game Show Take A Good Look
* "A Pony For Chris" – His Rare TV Pilot For Medicine Man Co-Starring Buster Keaton
* The Lively Arts Featuring The Only Existing Filmed Solo Interview With Ernie Kovacs
* 2011 American Cinematheque Panel
Bonus Features
1987 ATAS Hall Of Fame Induction
Remembering Ernie With George Schlatter And Jolene Brand
"Baseball Film"
Making Of "Baseball Film"
"The Mysterious Knockwurst"
Andy McKay 8mm Home Movies
Percy Dovetonsils: "Ode To Stanley's Pussycat"
Martin Krutch, Public Eye
Rock Mississippi In "Fingers Under Weskit"
Howard, The World's Strongest Ant
J. Burlington Gearshift
"Superclod" Test
"Take A Good Look" Clues
"Take A Good Look" Sales Film
"Silents Please"
"Our Man In Havana" Behind-The-Scenes Footage
Dutch Masters Commercials
Trailer For "Operation Mad Ball" – "It Happened To Ernie"
Muriel Cigars Commercials Featuring Edie Adams
Interview: Algernon Gerard, Archaeologist
Howard, The World's Strongest Ant: A Hot Date
Strangely Believe It: Writers To Blame
The Kapusta Kid In Outer Space Meets Olivia Scilloscope
Charlie Clod In Brazil
Ernie's Opening Monologue
Miklos Molnar's Glue
Percy Dovetonsils: "Ode To Electricity"
Interview: The World At Your Doorstep
Irving Wong: Tin Pan Alley Songwriter
Percy Dovetonsils : "Ode To A Housefly"
Introducing Coloratura Mimi Cosnowski
Howard, The World's Strongest Ant: Howard's Campground
Skodney Silsky, Hollywood Reporter
Ernie's Opening Monologue
Surprise Audience Member
Audio Lost
Matzoh Hepplewhite
Interview With Ernie Kovacs On The Lively Arts
"A Pony For Chris" – Pilot For Series Medicine Man
Ernie Kovacs Panel Discussion (August 27, 2011) At The American Cinematheque In Hollywood, CA
Home Movies: Golf With Edie And Ernie
Original Theatrical Trailers: "Wake Me When It's Over" And "Five Golden Hours"
Product Information
DISCS

9

RUN-TIME

22 hrs

ASPECT RATIO

1.33:1

COLOR

Color/Black & White

LANGUAGE

English

REGION

1

RATING

Various

PRODUCTION DATE

Various

CLOSED-CAPTIONED

 

No

SUBTITLES

None
Episodes
| EPISODE | EPISODE TITLE |
| --- | --- |
| 1 | It's Time For Ernie (March 7, 1951) |
| 2 | It's Time For Ernie (June 1951) |
| 3 | Ernie In Kovacsland (July 6, 1951) |
| 4 | Ernie In Kovacsland (August 23, 1951) |
| 5 | Kovacs On The Corner (January 1952) |
| 6 | Kovacs Unlimited (May 28, 1952) |
| 7 | The Ernie Kovacs Show (December 19, 1955) |
| 8 | The Ernie Kovacs Show (February 20, 1956) |
| 9 | The Ernie Kovacs Show (March 15, 1956) |
| 10 | The Ernie Kovacs Show (April 12, 1956) |
---
More from this collection